RETROFEED milestones and main activities in 2021
2021 has just finished, and now is the moment to recap all the activities that, despite restrictions by COVID-19, RETROFEED partners have carried out to achieve the final goals of the project. 
The characterization of the demo sites has finished, selecting the indicators to follow in the project, including both Key Resource Indicators (KRI) reflecting environmental and resource efficiency performance, and Key Performance Attributes (KPA) reflecting process performance regarding cost, quality and safety. Finally, a complete overview of the baseline conditions of the demo sites was done, based on a remote energy and waste audit.
Then, the analysis of actual monitoring architecture in each demo site has also been done. It includes an overview of equipment currently installed in each facility (sensors, control architecture, control devices, sensors connection, data access, etc.) and an identification of the new parameters needed for retrofitting. Moreover, the design of the new sensors to be developed within the project has already been done.
In parallel, the architecture design and the machine learning models, that the Decision Support System (DSS) is going to use, have been developed. This is essential for the project because the DSS will be the tool that will support plant operators during their day-by-day operations and strategic decisions.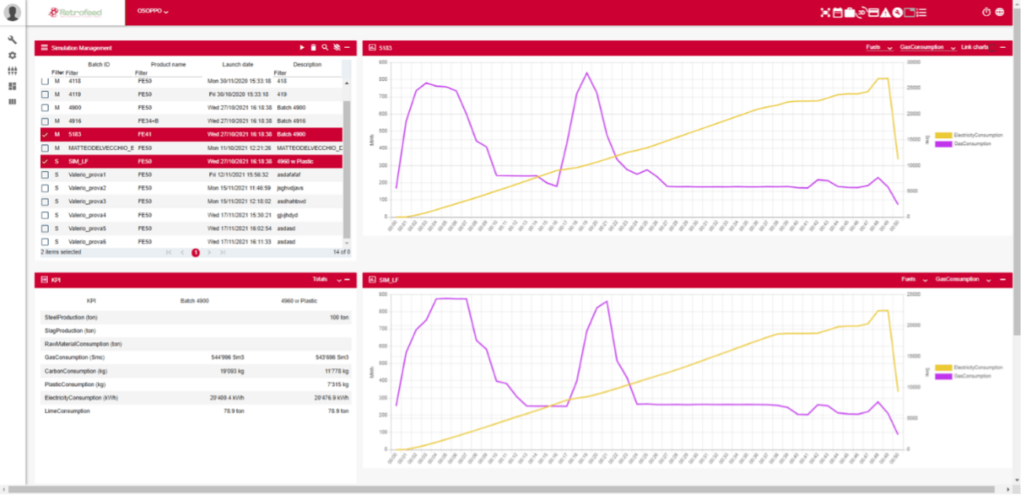 Snapshot of a preliminary version of the DSS.
On the other hand, the demo sites, the real protagonists of RETROFEED, have made great progress, realising the first steps of the implementations of their solutions: simulations have been made in order to develop digital twins for each demo site, prototypes and pilot plants have been installed and some industrial equipment has been already designed, manufactured and installed.
CFD simulations of a rotary kiln.
Moreover, partners have already started to prepare the business plan and exploitation of RETROFEED, with the first steps for developing an IPR and exploitation plan, searching for synergies with other stakeholders and contributing to regulatory aspects.
And all these achievements have been shared with the general public in European events such as EU Industry Week or the EU Sustainable Energy Week (EUSEW) and in international congresses such as EUBCE 2021, IMSTEC 2021 or RDPE 2021.