Investing in improving energy efficiency is industry's chance to be part of the post-pandemic economic recovery
In January 2020, the European Commission presented its European Green Deal investment Plan. The European Green Deal Investment Plan will mobilise EU funding and create an enabling framework to facilitate and stimulate the public and private investments needed for the transition to a climate-neutral, green, competitive and inclusive economy. The plan is to mobilise at least €1 trillion of sustainable investments over the next decade.
In March 2020, the Commission further developed the Green Deal by proposing a draft EU Climate Law that proposes a legally binding target of net zero greenhouse gas emissions by 2050.
In March 2020, the Commission also published its industrial strategy[1]. There will be "comprehensive measures to modernise and decarbonise energy-intensive industries, support sustainable and smart mobility industries, to promote energy efficiency, strengthen current carbon leakage tools and secure a sufficient and constant supply of low-carbon energy at competitive prices." The strategy includes a dedicated strategy for small and medium-sized enterprises (SMEs) aims to reduce red tape and help Europe's numerous SMEs to do business across the single market and beyond, access financing and help lead the way on the digital and green transitions.
What this means for the industrial sector is that the level of energy efficiency improvements needs to scale up. Furthermore, to ramp up those improvements, significantly more funding is needed from both the public and private sectors. These need to support other initiatives such as mandatory energy audits for large enterprises, support for SMEs and the promotion of energy management systems such as ISO 50001.
Recently the International Energy Agency published its World Energy Investment 2020. The following table shows that investment in the industrial sector has not changed over the past six years, even though there have been initiatives at national and international levels to encourage more energy efficiency investments and to increase awareness.
Yet, in another IEA report, its Energy Efficiency 2019 Report the avoided expenditure on energy because of energy efficiency improvements is significant for industry, and growing.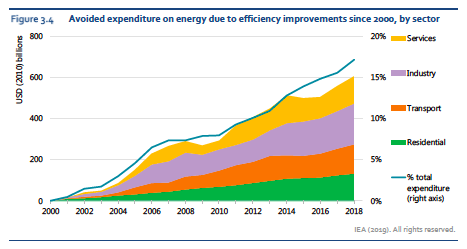 If we see those benefits in reduced costs, why isn't more being done? And there are other important reasons for industry to invest in energy efficiency improvements as part of the push for greater decarbonisation.
We know what needs to be done
Large industry in Europe has been required to undertake regular mandatory audits as required by the 2012 EU Energy Efficiency Directive. Now two should have been undertaken. Those audits provide evidence of what can and should be undertaken in companies to improve their energy performance. Yet, we are not seeing significant new investment.
It is more complicated for SMEs because the level of awareness and their technical capacity are more limited. Here, we need project developers, mainly ESCOs, to play a key role. Projects such as the Investor Confidence Project, TrustEE and iQuad have been working with those intermediates to step up their role.
The European Commission has also been supporting projects to test out new technologies and techniques to improve energy performance. Retrofeed is but one example. It provides an interesting package. Retrofeed's main objective is to enable the use of an increasingly variable, bio-based and circular feedstock in process industries through the retrofitting of core equipment and the implementation of an advanced monitoring and control system, and providing support to the plant operators by means of a DSS – Decision Support System – covering the production chain. There will be significant investment to test the system in different industrial sub-sectors.
The European Commission and UNEP FI support the Energy Efficiency Financial Institutions Group (EEFIG) and a Working Group on Industry is being created. This working group would assess the industrial practices dealing with energy efficiency, will identify and assess the main obstacles and drivers for improving energy efficiency in industry, will identify best practices, and will provide recommendations to DG ENERGY on what tools and policy instruments are likely to be most effective for increasing the energy efficiency investments in industry. The Working Group will be addressing various aspects of energy efficiency within energy-intensive industries and industrial SMEs and non-energy-intensive industries.
This September, the European Council for an Energy Efficiency Economy (eceee) is organising Industrial Efficiency 2020 to be a virtual event this September. It will explore current and emerging trends in industry, such as new business models, digitalisation, industry 4.0, the circular economy and resource efficiency, and discuss the significance of these trends for delivering decarbonisation.
Both EEFIG and eceee are important to share experiences and build momentum.
Now is the time
We can accelerate actions to help support the economic recovery after the COVID-19 pandemic. We can accelerate actions to meet our Paris climate obligations. EEIP will be there every step of the way. We certainly hope you will be part of the solution.
Author: Rod Janssen – EEIP – Energy Efficiency in Industrial Processes