Implementation of a smart RETROfitting framework in the process industry towards its operation with variable, biobased and circular FEEDstock
RETROFEED main objective is to enable the use of an increasingly variable, bio-based and circular feedstock in process industries through the retrofitting of core equipment and the implementation of an advanced monitoring and control system, and providing support to the plant operators by means of a DSS – Decision Support System – covering the production chain.
This approach will be demonstrated in five resource and energy intensive sectors (ceramic, cement, aluminium, steel, and agrochemical)
What are we currently working on?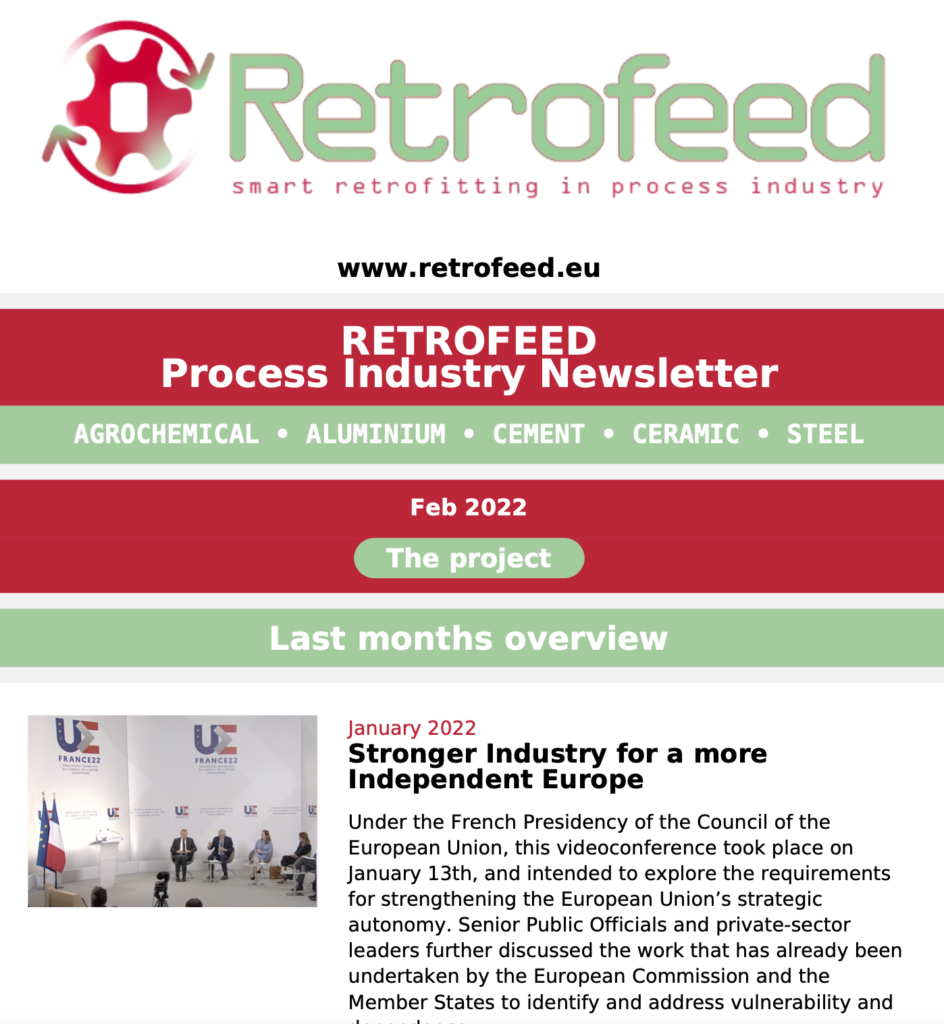 RETROFEED Newsletter Feb 2022
February 2022 - Check out our latest newsletter, gathering the highlights from our energy intensive industry world...and beyond! 
More and exciting activities to come... stay tuned!
Read more
Design And Drawings Of The New O2 Injector And Delacquering Drum
March 2022 - The objective of RETROFEED project in aluminum industry is to increase the amount of scrap aluminum in the melting furnace from 37.8% to 48% in order to save energy. This will decrease the CO2 emission and, therefore, the carbon footprint of the process. For this reason, retrofitting solutions in ASAS demo site are focused on the oxygen injector system, the new burner head and the delacquering drum system.conference and exhibit.
Read how it was
Machine Learning micro-services APIs
March 2022 - RETROFEED is an EU-funded project that aims at boosting the use of increasingly variable, bio-based and circular feedstock in process industries by retrofitting core equipment and implementing an advanced monitoring and control system, while also providing support to operators through a decision support system (DSS) covering the complete production chain.
Read more
Retrofeed signed Collaboration Agreement with RE4Industry
March 2022 - Today, 4th of March 2022, RETROFEED is pleased to announce its collaboration with EU project RE4INDUSTRY (GA 952936). This collaboration comes from common synergies and goals from both projects.
Read more
What is coming up in 2022?
January 2022 - The 2022 is, probably, the key year of the project. RETROFEED is expected to install and test the new sensors developed and the DSS will be finished for all demo sites, starting its use by the plant operators. Moreover, the core equipment will be already installed or modified, allowing demo sites to work with the new developments carried out in the project, helping to use a variable, biobased and circular feedstock.
Read more
RETROFEED milestones and main activities in 2021
January 2022 - 2021 has just finished, and now is the moment to recap all the activities that, despite restrictions by COVID-19, RETROFEED partners have carried out to achieve the final goals of the project.
Read more
There are no upcoming events at this time.
Subscribe to our Newsletter
Get in touch with
Retrofeed