Implementation of a smart RETROfitting framework in the process industry towards its operation with variable, biobased and circular FEEDstock
RETROFEED main objective is to enable the use of an increasingly variable, bio-based and circular feedstock in process industries through the retrofitting of core equipment and the implementation of an advanced monitoring and control system, and providing support to the plant operators by means of a DSS – Decision Support System – covering the production chain.
This approach will be demonstrated in five resource and energy intensive sectors (ceramic, cement, aluminium, steel, and agrochemical)
What are we currently working on?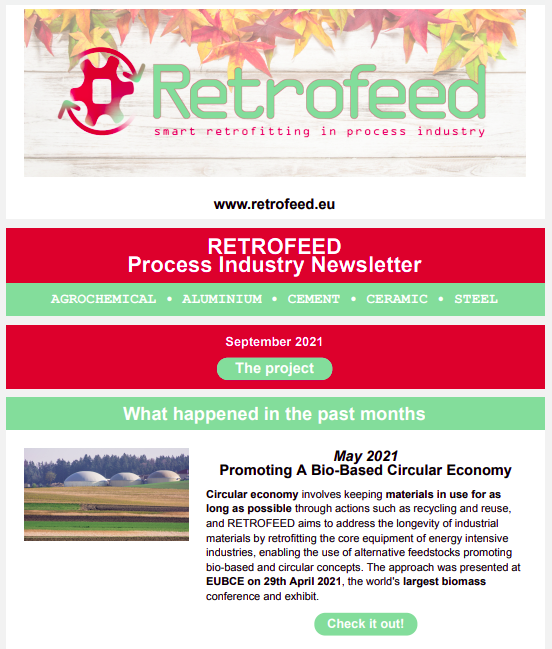 GOODBYE AUGUST...HELLO SEPTEMBER! Welcome back from RETROFEED project.
September 2021 - Check out our latest newsletter, gathering the highlights from our energy intensive industry world...and beyond! 
More and exciting activities to come... stay tuned!
Read more
ALTERNATIVE FEEDSTOCKS IN INDUSTRIAL INTENSIVE SECTORS - Promoting a bio-based and circular economy
May 2021 - Circular economy involves keeping materials in use for as long as possible through actions such as recycling and reuse, and RETROFEED aims to address the longevity of industrial materials by retrofitting the core equipment of energy intensive industries, enabling the use of alternative feedstocks promoting bio-based and circular concepts. The approach was presented at EUBCE on 29th April 2021, the world's larges biomass conference and exhibit.
Read how it was
INDUSTRIAL PROCESSES GOING DIGITAL - Best practices from EU-funded projects
February 2021 - A recent webinar shows once more how important industry is if we are to meet our long-term climate and energy objectives. In the recovery plans for the soon-to-be post-Covid-19 era, the transition towards digitisation in industries becomes one of the main key priorities of the European Commission. In the era of the fourth industrial revolution, digital solutions are having an impact in addressing our climate and energy needs. 
Read more
ENERGY AUDIT IN TIMES OF COVID-19: The RETROFEED augmented reality experience
November 2020 - The world pandemic has revolutionized almost every economic activity, including industry. But how to carry on with the normal activity of factories in this worldwide situation? The RETROFEED project shows a solution to the problem. It has given, in fact, proof that, even remotely, conducting energy audits is possible. How? Thanks to augmented reality! Watch the recording of our event!
Watch the video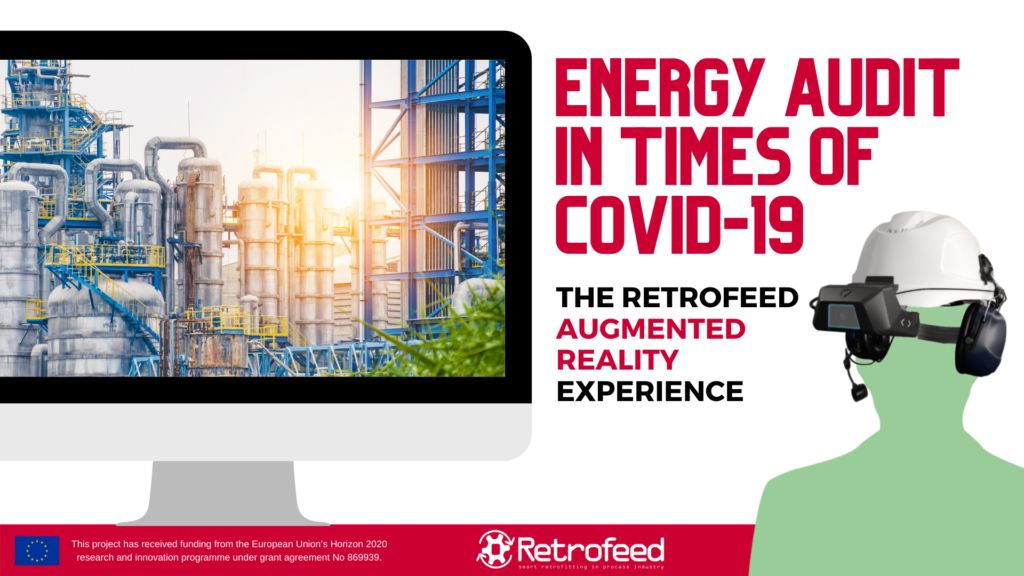 Retrofitting tools for industries: what's already available?
September 2020 - In the last decades, digital tools have become the key for handling complexities and evaluate opportunities in multiple industrial sectors. Industry 4.0 is part of this trend and is opening the door to the next phase of industrial digitalization where data, advanced analytical capabilities and new modelling techniques are leveraged to increase productivity with a specific focus on sustainability. But what's the state-of-the-art of the industrial digital landscape, in six different industrial sectors? 
Read more
Can solutions for industries be transferrable among the different facilities in different sectors? Could this lead to industrial symbiosis?
September 2020 - The ultimate goal of RETROFEED is to provide industries with the necessary tools and strategies to incorporate variable, preferably biobased feedstock, leveraging on circular economy opportunities. But are the solutions developed transferrable among the different industries involved? Might this lead to industrial symbiosis?
Read more
Subscribe to our Newsletter
Get in touch with with
Retrofeed